WORLD MAPS – WALL DECORATION
Traveling around the world from Latin America to Asia, including the Western world and the countless treasures of various countries around the globe, is what we aim to achieve by offering beautiful maps for a successful wall decoration, combining geography and decoration. Precise, up-to-date and in English, from small to Extra Large formats, in several formats, our world maps printed in HD are suitable for all types of interiors, from contemporary, classic, industrial, retro, etc. Full of river names, countries, capitals, borders, islands, seas, oceans, volcanoes…: our boards are intelligent decorative objects!
For your interior design, Original Map® offers its maps on two materials displayed in video!
Our

flexible

wall world maps:
On a high-quality, washable, adhesive PVC backing, with a satin finish.
We offer to the "Do It Yourself" enthusiasts the possibility to create their own "floating effect" board. Installation is easy thanks to our recommendations for use and a video to be found in our usage instructions.
Our

rigid

world maps boards:
Bright colours, subtle reflections, frameless… boards on Plexiglas® provide a modern twist to an interior.
In order to ease the installation of your decorative board, we offer several mounting methods. You can find our fixing system without holes or screws in our accessories.
Lovers of old maps and other ancient world maps, the range of world maps in vintage style is perfectly suitable for an ideal wall decoration or an original and unusual gift idea.
We improved the geography of our world maps to create a series of maps with marine and continental landforms.
Our world maps with watercolour effect are perfect for paint lovers. Offer yourself a beautiful, timeless and universal gift for all occasions.
Classic Mercator projection world maps
World maps with a clean and elegant style for a simple interior decoration. An ideal gift for a loved ones or yourself.
Complete world map with Antarctica
We have chosen to offer a more complete World Map with the Southern Continent, otherwise known as the White Continent. Almost fully covered in ice, it is the only continent without human habitat, but many scientific bases of all nationalities have settled there. Discover these bases with our Complete World Map, as well as the many ice floes of the coldest continent on earth.
Gall-Peters projection world maps
Imagined for the first time in the 19th century, Gall-Peters' projection, so called Peters' projection , has the advantage to represent our world in a more realistic way and keeping the real proportions between the continent sizes, wich is lacking in the Mercator Map. Because of the deformations this last mapping projection wich is the most commonly used, shows larger lands close to the North and South poles. That's why Africa as we know it apears larger in reality.
Winkel Tripel projection world map
Designed in 1921 by Oswald Winkel, the Winkel Tripel projection is a compromise between the Gall-Peters and Mercator projections: it limits both the distortions of relative surfaces and those of length and distance. It has been used since 1998 by the National Geographic Society.
Planisphere to be customized
A blank world map to awaken your imagination and awaken the memories of your travels. Colour, paste, write, lay strass, trace your journeys around the globe, all choices are possible.
Small 130x65cm (~ 50″x25″) | Medium 150x75cm (~ 60″x30″) | Large 200x100cm (~ 80″x40″) | Giant 260x130cm (~ 100″x50″) | Colossal 300x150cm (~ 120″x60″)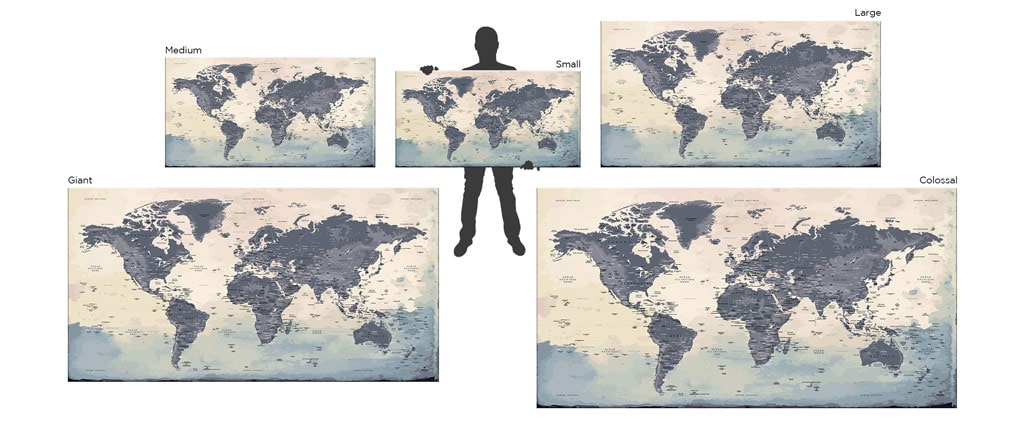 Castles from another era, remarkable forests and natural sites both diverse and exceptional; everything is on our England map designed to revisit in a new way this beautiful country, its regions and departments.
Go on a road trip to North America, the continent of the United States, with our maps full of information. From national parks to remarkable sites, it is in a unique way that this continent belonging to the "New World" and bordered by the two largest oceans of our planet, will reveal itself to you.
Decorate your interior with a european map in several styles, sizes and materials. Thanks to it, travel from one European city to another and discover a selection of the most beautiful national parks of the "Old Continent".
Are you ready for a trip to the deepest depths of the galaxy and beyond? Our celestial vault map is made for you. Dive into our night sky to meet the constellations, with their brightest stars, from the hottest to the coldest. Look for other celestial objects such as globular clusters, nebulae and other distant and unknown galaxies that glitter on your nights.
Whatever size and material chosen, our teams guarantee a precise and accurate production.